The first, in person, Clevedon Literary Festival will take place next weekend across Friday 11th & Saturday 12th June. The theme for this year is "More Than Words", bringing music, poetry, spoken and sung word together with local creators and writers from across the South West, we even have synchronised swimming in Clevedon Lake to celebrate the occasion!
The full programme of ticketed events can be found here, but there's plenty to see and do if you're in and around Clevedon, especially on the Saturday.
Vintage Bus Rides
Travel in style at this year's
Clevedon Literary Festival
with a ride on one of these locally vintage buses, kindly offered to us by Kelvin Amos.
• 11am St Andrews Church
• 11:10am Town Centre (Kenn Road)
• 11:15am Princes Road
• 11:20am Hill Road
• 11:25am Salthouse Fields
• 11:30am St Andrews Church
The bus rides will be FREE but passengers can leave a contribution as you board.
Forget the Clevedon Hills on Saturday the 12th June, we've got the perfect mode of transport to get you from A to B!
Music From Clevedon Community Bandstand
Clevedon Community Bandstand is a project devised by two friends Maureen Ni Fiann and Cinzia Apreda to bring vibrant multi cultural music to this Victorian landmark. From the Clevedon Community Bandstand on the sea front, music will be freely available to enjoy throughout the festival on the 12th June. We will welcome established artists from the Bristol and Somerset area. Read more about the music line-up on the full programme. 
Children's Literary Trail At The Glebe
As part of the festival this year, there will be twelve family friendly, literary inspired clues scattered around The Glebe by St Andrew's Church for children and families to find and answer. In addition to these clues taking you across The Glebe, there will also be three creatures to find!
From 10am to 4pm on Saturday 12th June, this free and fun trail will be available as an opportunity to enjoy a special little part of Clevedon in a lovely natural setting!
Synchronised Swimming At Clevedon Lake
A group of approximately 20 swimmers from Henleaze Lake will be putting on a synchronised display on 12th June in Clevedon Marine Lake between 10am-10:15am.
Ambling Band
The Ambling Band are based in Bristol and play in the south west of England and on the continent. They will be making there way to Queens Square on Saturday 12th June playing a selection of samba, rumba, swing, bangra… Latin American, panish, African, French… Dance music and Carnival Music!
Tony Malone Studio
Tony's artwork, human rights work and product designs can be found and celebrated across the world, from his home studio high in the welsh valleys, his small gallery in Clevedon, Somerset, and internationally through at Saatchi Art.For over 25 years his watercolour art work, has been exhibited internationally, often overlapping with his passion for human rights leading to exciting and awareness raising of contemporary subjects using art forms to as part training tool and part activism. He has wrote many bestselling non-fiction titles on design, Colour Theory and Human Rights, and various collections of children's stories based on folklore and mythology and worked with The BBC on a radio adaptation of his folklore works. Tony will be in his studio on 42 Old Church Rd, on Saturday 12th June from 10am-4pm to discuss Arts and publications with a talk on peace activism and human rights, and an exhibition of his Watercolour Activism collections of sketches of real peace protests and activists.
Doris Hatt at Polodango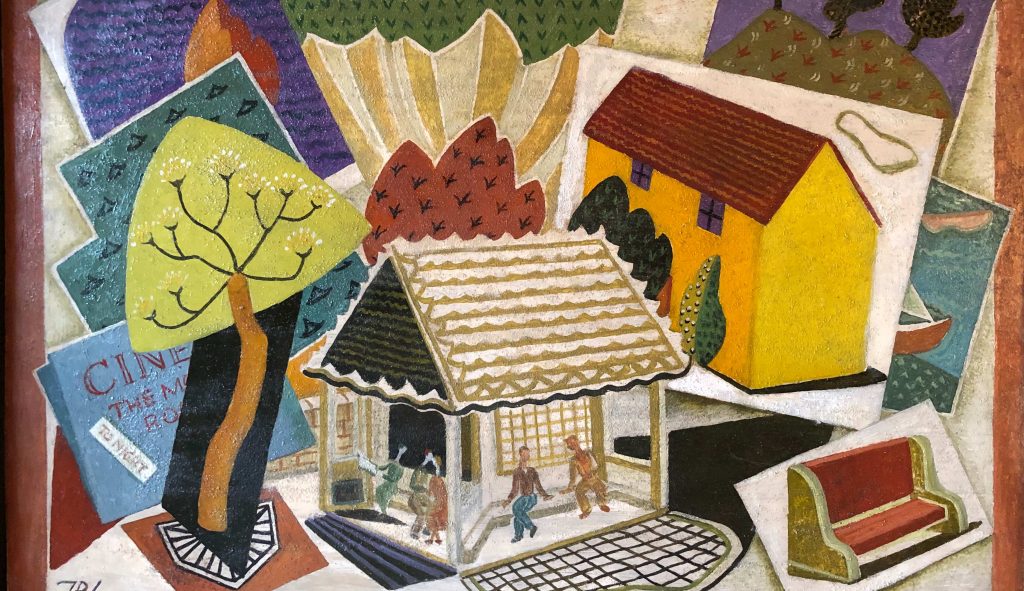 A rare opportunity to view a range of painting and drawings of Clevedon artist Doris Hatt (1890 – 1969), on loan from various local residents. One of the co-authors of Doris Hatt – Revolutionary Artist will be available to answer questions about her life and work. Numbers in the shop at any one time will be limited according to COVID Regulations on the day.
Polodango is the furniture restyler in Clevedon, accepting commissions as well as creating and celebrating original local art.
Owned by Paul, the space is used frequently for local artist to exhibit and sell their work.
You can purchase a copy of "Doris Hatt: Revolutionary Artist" at the
Clevedon Community Bookshop
,
Books On The Hill
and Tony Malone Studio. 
We organised this reprint as part of our festival, to celebrate this modernist artist, feminist and forward-thinker who lived in Clevedon for nearly 50 years until her death in 1969.
For the full programme and Ticket Information, click HERE